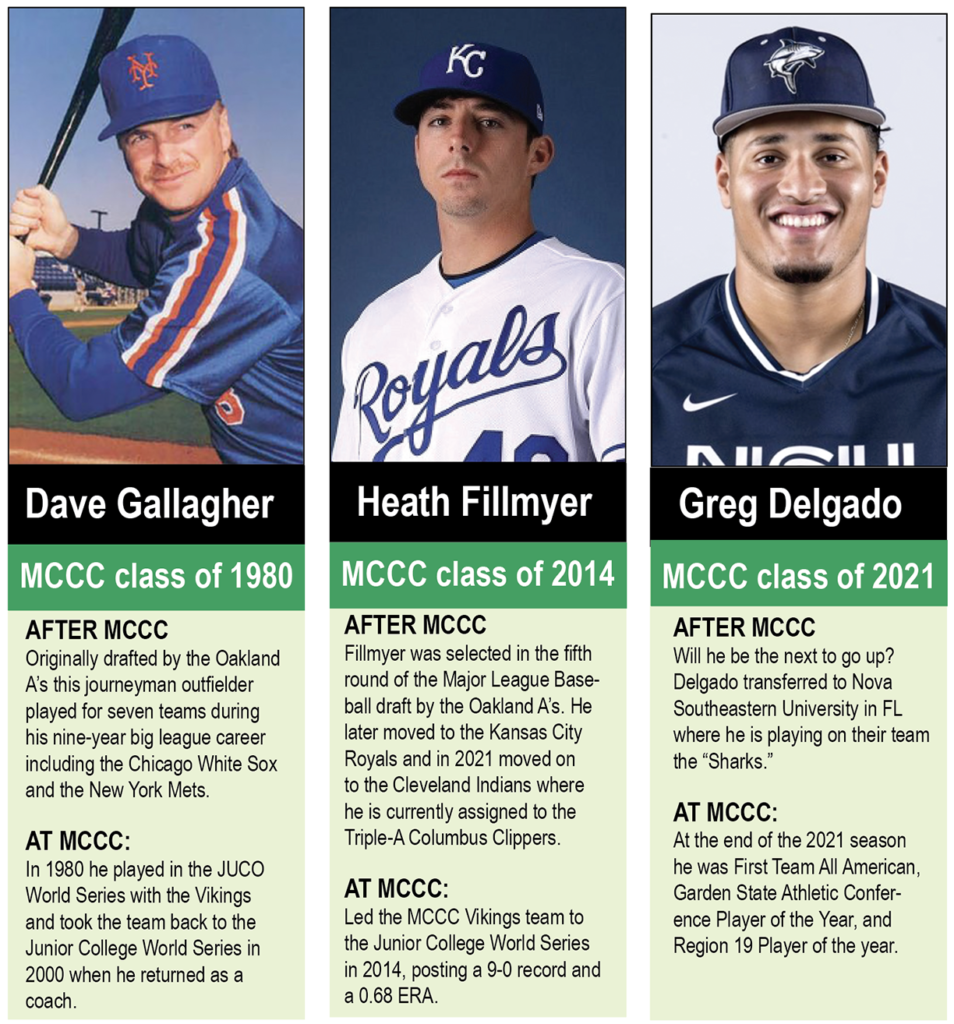 who will be the next one ? – The VOICE of the College
[ad_1]
There are good examples of professional sports players who started out in community colleges, but a lot of people are unaware that MCCC had a few. Two MCCC alumni who entered Major League Baseball are Heath Fillmyer who played for the Kansas City Royals and Dave Gallagher who played for the Oakland A's and other teams.
There are also more recent graduates who are on a Major League trajectory. Denny Brady and Greg Delgado were both part of the Mercer Vikings baseball team and play baseball at different levels.
Dennis "Denny" Brady graduated from Mercer in 2017. He was drafted in 2017 by the Los Angeles Angel's in the 7th round and is currently a Double A affiliate for the Rocket City Trash Pandas. The Double A league is the second highest league in baseball.
In a recent interview, Brady was asked how playing on a minor league sports team is compared to Mercer's baseball team. He said, "Pretty similar actually. Obviously, Mercer doesn't have a lot of money, so the players have to do a lot on their own. It's very similar to minor leagues, except the funds are there. They're very minimalist in what they give us, so there's a lot of money coming out of minor league pockets to help sustain our lives, I guess you could say… "
Thinking back to his time as a Viking, Brady said, "At Mercer I really learned to, I guess, stand up for myself and take charge of my career since there were no D1 schools… Everything depended on people. , like teammates and coaches. They didn't have much to give you, but you know you could feed on them, they could feed on you.
Current baseball head coach Fred Carella, who was an assistant coach in 2017, remembers Brady well.
"Denny's performance in 2017 was phenomenal. He was a member of the 1st All-American team and the Division 2 junior college pitcher of the year. Every time he took the mound we felt like we were going to win the game, "said Carella.
Denny has fond memories of particular games from his time as a Viking.
"Yes, so I took part in two matches in the [NJCAA] World events. It's the second game that is the most memorable for me. Yeah, it was just the team we were playing with, like we were going blow for blow with them… I knew that was the last time I played with this team because I mean [if] we won this match, we were going to play one more match, [but] if we lost, we were done… "he declared.
Coach Carella also remembers the series saying, "Denny had an outstanding performance in the World Series. I think the game he pitched in the district tournament, against CCBC Catonsville, was even better. He threw a full shutout in that game and was in total control from start to finish. "
When asked if he thought Brady was the kind of person to make it to the minor leagues, Carella replied, "Yeah, I thought Denny would be drafted and play professional baseball. I still believe he has a chance of qualifying for the Major Leagues ".
He added, "It was great knowing that I played a small role in helping Denny achieve his dream of playing professional baseball. As coaches, our goal is to help all of our players take baseball to the next level. It could be a four-year school or a professional opportunity.
Greg Delgado is another student who is not on a minor league team but who has been recognized for his excellent baseball ability, willingness to play and good attitude.
Delgado was a former MCCC Viking for the baseball team who graduated last spring and currently attends Nova Southeastern in Florida and continues to play baseball.
At the end of his season last spring, Delgado received 3 NJCAA titles. He was the "First Team All-American", "Garden State Athletic Conference Player of the Year" and "Region 19 Player of the Year".
Coach Carella says Delgado was, like Brady, a first-team All-American player.
"He hit in the middle of our line-up and was a team captain. He's attending Nova Southeastern on a sports scholarship and I expect him to have a big impact on their baseball team in the spring.
Delgado says of his goals, "I hope to win a national championship this year."
When asked to recall all of the games that had the most impact, Delgado said: End-of-season game at Morris County College. This game was supposed to take first place in our region and that is exactly what we did. I had a day with 2 home runs with 5 RBIs and as a team we played really well.
Asked about his pre-game strategies, Delgado said: "During my time at Mercer before games, I was sticking to a mindset where I visualized success in a lot of different situations before the game and then at the time of the game, I was sticking to my approach and playing with passion.
[ad_2]