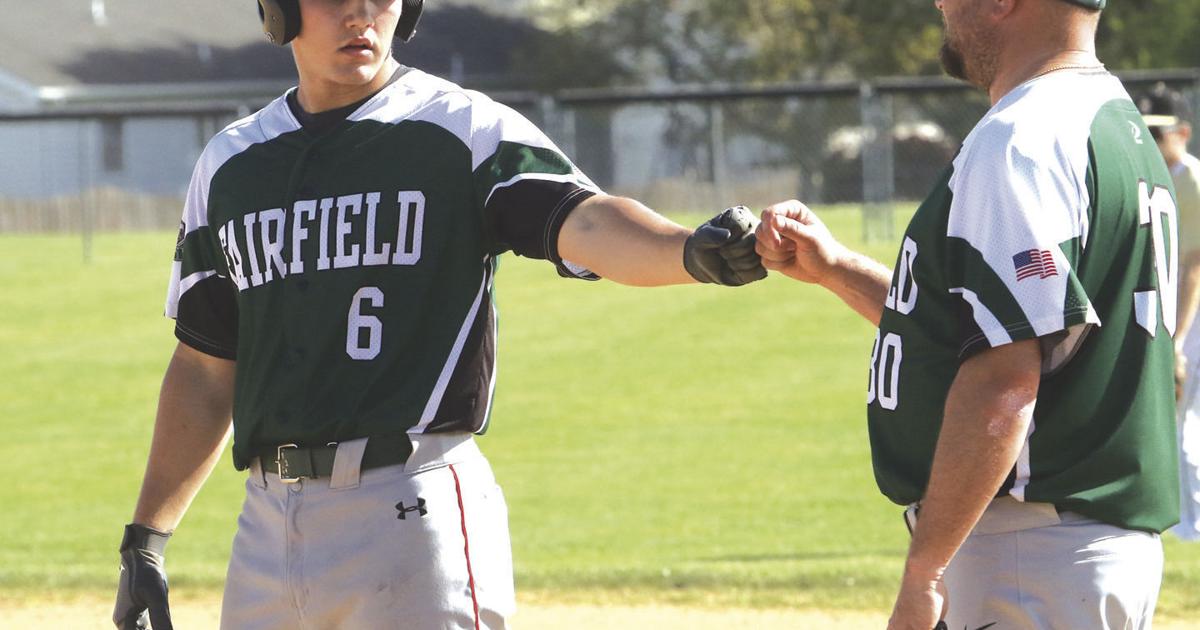 Times Area Well Represented on YAIAA Baseball Coaching All-Star Teams | Sports
New Oxford head coach Scott Anderson has captained the Colonials for the past 22 seasons, but it has been a while since he led them to a division title. Eleven years to be exact.
For piloting the team to the YAIAA-2 crown which was shared with Gettysburg and Spring Grove, Anderson was voted Coach of the Year for the division by his coaching peers.
"It's always gratifying to win an award from your peers, but it's also an award that I accept on behalf of our players. It takes all of us to be able to win this award," Anderson said. "Our children are dedicated, they buy into what we do and they work very hard. We started working for the season right after Thanksgiving with training every Tuesday and Thursday until March, except for a little break around Christmas.
New Oxford had four seniors in its starting lineup and three of them were named YAIAA-2 All-Stars, led by pitcher of the year Mason Weaver.
The right-handed Weaver will play collegiately at Elizabethtown College where he will primarily play in the field, but will also be used as a relief pitcher. He went 5-2 with a 1.91 ERA with 65 strikeouts and 10 walks in 55 innings of work.
"When Mason was on the mound, we felt like we were going to win that day. It didn't matter who we were playing against," Anderson said. this allowed him to pitch a lot of full matches.
Third baseman Adam Pascoe posted a .257 batting average with 20 RBIs. He had six doubles and walked 17, posting a .521 on-base percentage and .500 hitting percentage.
Outfielder Aaron Smith hit .237 with an OBP of .392.
Additionally, junior outfielder Kolton Haifley averaged .362, scored 17 times, had 15 free passes, and had a .519 OBP while getting a nod to the outfield.
Gettysburg junior third baseman Bryce Rudisill, a University of Pittsburgh draftee, was named YAIAA-2 Player of the Year.
Rudisill, a big swinger on the left side of the plate, hit .389, hit .666 and posted a .464 OBP as he helped the Warriors share the division title. It was the fifth straight time they had won the division. He homered three times and hit 23 runs, while hitting five doubles and three triples. He also stole seven bases and scored 20 times.
As a pitcher, he posted a 0.52 ERA in 13.1 innings and two saves.
"Bryce was the best player in our division and quite possibly in the entire league," Gettysburg head coach Ryan Brady said via text message. "He was one of the main reasons we were able to win our fifth consecutive division title and upset (Muhlenberg) in the first round of districts."
Senior pitcher Logan Moseley and junior pitcher Braden Manning also earned a spot on the team.
Manning, who needed a plasma injection in his throwing elbow last September to repair a partial tear in the UCL ligament in his right elbow, finished the year with a 2.65 ERA in 42.1 innings with a 5-1 record and 57 strikeouts. While Moseley threw a 2.05 ERA in 30.2 innings with a 3-1 record and 31 punches.
Senior utility Chris Boone was also selected after hitting .281 with an OBP of .446, showing great patience in the first place order. He led nine points and scored 18 times.
Littlestown, which qualified for the PIAA tournament for the first time since 2013, placed three players in the YAIAA-3 squad.
Senior pitcher Michael Henrie pitched 32 innings for the Bolts, pitching to a 2.62 ERA with 44 strikeouts and went 4-3. Sophomore wide receiver Ryan Jones, a University of Delaware clerk, hit .433 with 17 runs, swiped 10 sacks and had a .541 OBP and .500 SLG. Sophomore center fielder Colby Hahn batted .367, scored 15 times, stole six bases and posted a .472 OBP.
The Bermudians also placed two players in the YAIAA-3 team, with Liam Cook and Gabe Kline earning places.
In YAIAA-4, Fairfield and Delone Catholic shared the division title. It had been the Premier League title for the Squires since 2015, while the Knights had yet to win a crown until the 2022 campaign.
Fairfield head coach Dave Hazlett was voted coach of the year by fellow coaches.
"It means a lot to me," Hazlett said of the honor. "I have a lot of respect for the other coaches in the division and I've known some of them for quite a long time. So it's an honor. »
Of the division title, Hazlett said, "It's the culmination of the effort our guys have put in over the past four years. It was a little interrupted by the pandemic two years ago, but it has been building for a few years. »
Knight senior Cody Valentine had a phenomenal season, winning the player of the year award.
Valentine, who will play collegiate at Allegheny College, batted .532, drove in 18 runs, scored 24 runs, hit seven doubles and three triples, while stealing 13 bases. He put together a .577 OBP and a .790 SLG. On the mound, he was 6-1 with a 3.14 ERA in 35 innings with 37 strikeouts.
"It's such a shame that Cody lost his sophomore season due to Covid. It would have been nice to see how much he could have developed if he had played four college seasons instead of three," Hazlett said. "He's a player, he couldn't accept losing and it became contagious with the rest of the team. He's not exactly a demonstrative child, but he's a discreet leader.
Leading receiver Will Myers averaged .375 with 15 RBIs and stole eight bases while posting a .515 OBP.
Senior outfielder Eric Ball batted .524 with 20 RBIs, scored 27 times and swept 26 bases. He had a .583 OBP and a .714 SLG.
Delone's run to the state semifinals was fueled by the launch of seniors Jake Sherdel and Tyler Hillson. Fittingly, they were both selected to the team.
Sherdel, who will play at Pitt-Bradford next season, was voted pitcher of the year after going 8-1 with a 1.60 ERA with 77 strikeouts and 16 walks in 61.1 sleeves.
Hillson will play at Gettysburg College after going 5-1 in 49.1 innings. He whipped up 53 batters in 49.1 innings with a 2.41 ERA.
Biglerville also had a pair of players on the team. Austin Black hit .426 with 15 RBI, scored 15 times and posted an OBP of .486 and SLG of .557, while Ben Angstadt hit .361 with 15 RBI, scored 18 times and had an OBP of .473.
YAIAA Baseball All-Star Coaches
Player of the Year: Connor BartoDallastown
Launcher of the year: Carlos Caraballo, Southwest
Coach of the Year: Jim Bray, William Penn
Pitchers: Jason Krieger, Red Lion; Josh Marquard, Central York
Seeker: Levi Loughry, South West
Infielders: Steven Bautista, William Penn; Connor Lawrence, Red Lion; Austin Long, Southwest; Bradnon Ritchey, Red Lion
Voltigeurs: Brady Altland, Dallastown; Dominic Praydis, South West; Owen Wilhide, northeast
Utility: Addison Clymer, Central York
Honorable Mention: Colin Ahr, Dallastown, Nate Toomey, Northeast, Camden Flinchbaugh, Dallastown, Brinden Floyd, Northeast, Tyler Dehoff, Central York; Quin Shindler, Northeast; Colin Dempsey, Central York; Jakob Shaffer, Red Lion.
Player of the Year: Bryce Rudisill, Gettysburg
Launcher of the year: Mason Weaver, New Oxford
Coach of the Year: Scott Anderson, New Oxford
Pitchers: Logan Moseley, Gettysburg; Braden Manning, Gettysburg
Seeker: Cam Gracey, Spring Grove
Infielders: Adam Pascoe, New Oxford; Landon Bailey, Spring Grove; Tanner Rohrbaugh, Dover; Ethan Fuhrman, Spring Grove
Voltigeurs: Kolton Haifley, New Oxford; Aaron Smith, New Oxford; Owen Sporer, Spring Grove
Utility: Chris Boone, Gettysburg; Nizeah Mummert, Spring Grove
Honorable Mention: Eli Tome, Spring Grove; Ricky Peters, West York; Cody FurmanGettysburg
Player of the Year: Ben Koller, Susquehannock
Co-Launchers of the Year: Joe Smith, Susquehannock; Logan Hauser, Susquehannock
Coach of the Year: Joel Stoneberg, Susquehannock
Pitchers: Michael Henrie, Littlestown; Josh Preston, Susquehannock, Austin Bausman, Eastern Yorkd
Seekers: Dave Barrett, Susquehannock; Ryan Jones, Littletown
Infielders: AJ Miller, Susquehannock, Luke Geiple, Susquehannock; Josh Pecunes, Susquehannock; Brody Hinkle, East York; Liam Cook, Bermuda Sources; Lucas Nagle, Kennard Dale
Voltigeurs: Colby Hahn, Littlestown; Gabe Kline, Bermuda Sources; Adam Loucks, Kennard-Dale; Micah Smith, Kennard Dale
Honorable mention: Austin Reinert, Bermuda Sources; Tyson Carpenter, Bermudian Springs; Bradin Peart, Littlestown; Nathan Keller, Bermuda Sources; Brayden Heaps, Susquehannock, Zack Coleman, Susquehannock; Hank Leighty, Kennard-Dale
Player of the Year: Cody Valentine, Fairfield
Launcher of the year: Jake Sherdel, Catholic Delone
Coach of the Year: Dave Hazlett, Fairfield
Pitchers: Ethan Shimmel, YorkTech; Tyler Hillson, Catholic Delone
Seeker: Will Myers, Fairfield
Infielders: Chase Roberts, Hanover; Ben Angstadt, Biglerville, Austin Black, Biglerville, Yadi Cruz-Cruz, York Tech
Voltigeurs: Eric Ball, Fairfield; Luke Campbell, York Catholic; Jaxon Dell, Hannover
Utility: Brady Walker, York Catholic
Honorable mention: Ryan Tully, your Catholic; Andrew Koons, Fairfield; Jake Myers, Fairfield, Cam Macinyak, Fairfield; Jayden Bell, Fairfield; Eli Weigle, Biglerville; Cam Hartzell, Biglerville; Brodie Collins, Catholic Delone; Trent Giraffa, Catholic Delone