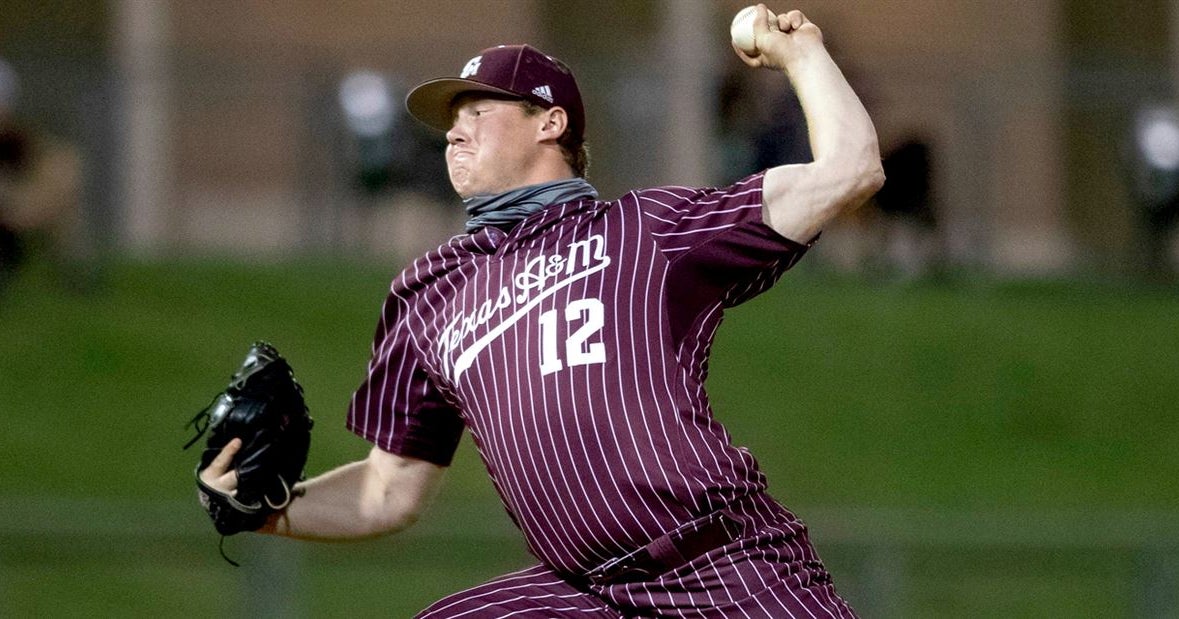 SEC Baseball Coaches Preseason Rankings, All Conference Teams Released
Texas A&M is just over a week away from starting a new era with its baseball team. From 1959 to 2021, the Aggies had only three head coaches in total. Now, Jim Schlossnagle takes over after a successful career at TCU.
Texas A&M saw its 13-year streak end in the NCAA tournament a year ago, but the Aggies hope to start a new streak this year. There are quite a few question marks, however, as the team have seen a lot of transfers happen, so there will be several new faces in the Maroon and White this year.
And, while A&M has plenty of talent on the pitching team, it remains to be seen which pitchers will step in and take the reins as the weekend's starters. Because of those question marks, the rest of the SEC coaches struggled to rank the Aggies incredibly high in the preseason poll.
Texas A&M is expected to finish sixth out of seven SEC West teams. The coaches have the Aggies over Auburn, by a pretty wide margin. A year ago, A&M was last in the West as it was one game behind Auburn.
Arkansas is expected to win the West, receiving five of 14 first-place votes. The Razorbacks won it a year ago and are looking to repeat. Ole Miss and Mississippi State tied for second place and both received four first-place votes. LSU received the only other vote for first place and finished fourth while Alabama comes in just ahead of the Aggies at No. 5.
In the SEC East, Vanderbilt is the overwhelming favorite with nine votes for first place. The Commodores finished half a game behind Tennessee a year ago. Florida is chosen second and has three votes for first place while Georgia comes in third and has the other two votes for first place. Tennessee is at No. 4 while South Carolina at No. 5, Kentucky at No. 6 and Missouri at No. 7 round out the preseason forecast.
As for the SEC overall champion, Ole Miss received four votes while Arkansas had three. All of Florida, Mississippi State and Vanderbilt received two while LSU had one. Mississippi State is coming off the national title last season.
With Texas A&M losing most of its best players to Major League Baseball and having plenty of names that league coaches aren't incredibly familiar with, it's no surprise the Aggies aren't well represented in All-SEC preseason teams. However, A&M being left out of the first and second teams completely is at least a little surprising. Although Alabama, Auburn and Missouri were also excluded.
For a look at what to expect from the Aggies' new look this year, especially after an influx of transfers, check out GigEm247's ultimate three-part baseball preview with receivers and infielders in game 1, outfielders in part 2 and pitchers in part 3.
Texas A&M will open the season with a three-game series at Blue Bell Park against Fordham. The Aggies and Rams will face off from Friday, Feb. 18 through Sunday, Feb. 20.
SEC WEST LEAGUE COACHES PREDICTIONS
1. Arkansas (5) – 80

T2. Mississippi State (4) – 77

T2. Ole Miss (4) – 77

4. USL (1) – 62

5. Alabama – 38

6.Texas A&M – 36

7. Auburn- 22
SEC EAST PREDICTIONS FROM LEAGUE COACHES
1. Vanderbilt (9) – 87

2. Florida (3) – 77

3. Georgia (2) – 68

4.Tennessee – 63

5. South Carolina – 43

6. Kentucky – 34

7. Mo. – 20
() – Votes for first place
GLOBAL SEC CHAMPION VOTES: Ole Miss (4), Arkansas (3), Florida (2), Mississippi State (2), Vanderbilt (2), LSU (1)
2022 SEC Baseball Coaches Preseason Team
first team
C: Logan Tanner, Mississippi State

1B: Tre'Morgan, LSU

2B: Robert Moore, Arkansas

3B: Jacob Berry, LSU

SS: Jacob González, Ole Miss

FROM: Dylan Crews, LSU

FROM: Enrique Bradfield Jr., Vanderbilt

FROM: Jud Fabian, Florida

DH/UTL: Dominic Keegan, Vanderbilt

PS: Landon Sims, Mississippi State

PS: Hunter Barco, Florida

PR: Nick Maldonado, Vanderbilt
second team
C: Hayden Dunhurst, Ole Miss

1B: Tim Elko, Ole Miss

2B: Peyton Chatagnier, Olé Miss

3B: Cayden Wallace, Arkansas

SS: Ryan Ritter, Kentucky

FROM: Jordan Beck, Tennessee

FROM: Drew Gilbert, Tennessee

FROM: Brady Slavens, Arkansas*

FROM: Kevin Graham, Ole Miss*

DH/UTL: Luke Hancock, Mississippi State

SP: Jonathan Cannon, Georgia

SP: Will Sanders, South Carolina

PR: Jaden Woods, Georgia
*Denotes a tie in the vote