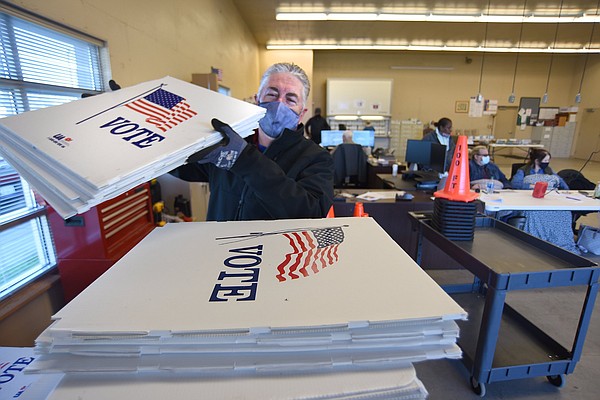 Opinion: Hamilton County election, IT policies and campaign tactics have consequences
Keep an eye on the Wamp war
Watch this week to see if our middle-aged to elderly Hamilton County Commissioners and our new Millennial County Mayor continue to cut and shoot each other.
In just a few weeks, we've seen Mayor Weston Wamp fire the county attorney, citing what appear to be reasonable grounds, including Rheubin Taylor's oversight of the destruction of public records.
We saw the commission attempt to fire the attorney and pass a resolution to set up a civil service system (which, by the way, would not cover the attorney involved or other county government administrators.)
We saw the mayor announce that he was asking the county public records commission to change its county email retention policy. The policy currently keeps these emails for a ridiculous 10 days, rather than the five years recommended by a state group.
Wamp is correct when he says the policy change would promote greater accountability in county government. But where do we all think our commission will fall? We are going to make three guesses and you can know that the first two don't count.
Here's the thing: this commission and the mayor have serious problems ahead of them. Our students' declining test scores, for starters. Nearly $1 billion in deferred maintenance for our school buildings for another. For a third, there is the gross waste of money that our commissioners supported (along with Chattanooga) to spend nearly $80 million on a minor league baseball stadium for the wealthy owners of the Chattanooga Lookouts.
Grow up, men. Your antics to cover your butt and protect your inflated egos are wearing thin on the taxpayers and residents of Hamilton County. Stop fighting with this new mayor and work with him to find solutions to our problems.
Painful hospital ransomware attack
On Friday, CHI Memorial Hospital said the hospital's electronic health records system was back online and providers could once again access their patients' electronic health records after jamming for three weeks under a cyberattack. of ransomware.
Doctors and nurses had to practice medicine the old-fashioned way with paper and pens, and patient access to their electronic MyChart pages was shut down. Local CHI Memorial facilities postponed some procedures and briefly diverted some ambulance traffic to other local hospitals.
The health system told the public in early October that some hospital computer systems were offline because their parent company was dealing with a "computer security incident."
"Our facilities follow existing protocols for system outages and take steps to minimize disruption. We take our responsibility to ensure patient privacy and IT security very seriously."
It wasn't particularly reassuring. And a few days later, it became apparent via newspaper headlines elsewhere that the problem was much bigger, affecting much of CHI Memorial's parent company, Chicago-based CommonSpirit Health, the second-largest healthcare chain. nonprofit hospitals in the United States.
The chain operates 142 hospitals and about 2,200 health care facilities in 21 states, and similar issues have been reported in at least Nebraska, Washington, Iowa and Texas.
CommonSpirit finally confirmed last week that the computer shutdowns were due to a ransomware attack. Hospital industry experts have since called the attack the largest of its kind in history.
In a "Frequently Asked Questions" box on the commonspirit.org website, the message "Has patient information been viewed?" the question was not really answered. The response was: "We are continuing to conduct a thorough forensic investigation and will seek to determine if there are any data impacts as part of this process."
Again, this is not particularly reassuring.
We have heard warnings of things like this. Unfortunately, now we have seen it.
Electoral harassment is not allowed
The voter harassment appears to have happened at an early voting location near our home — and by a Tennessee gubernatorial candidate, nonetheless.
Police arrested and charged Charles Van Morgan, an independent candidate from Knoxville on the ballot, on Monday after voters and election officials said he 'got in front of people' and yelled at voters at the office. of the Hamilton County Election Commission on River Terminal Road, according to a Sheriff's Department affidavit.
Two commission employees, including County Elections Administrator Scott Allen, as well as a voter who asked not to be identified, told officers that Morgan yelled about politics and harassed voters.
Morgan, charged with resisting arrest, disorderly conduct and interfering with the rights of others/election laws, in a subsequent phone call with the Times Free Press, said he was simply campaigning.
"It's not a free and fair election. … I was there campaigning. It's the most corrupt county I've seen in Tennessee. People worry about Russia when there's the Corrupt County of Hamilton."
We do not think so. We don't think ours is a corrupt county because our election commissioners don't choose to remain silent while voters are scared to the point that they've asked the police to escort them back to their cars.
It's normal to be passionate about politics. It's not good to be "in people's faces" about politics.
Voting is sacred and important. And it's good to know that perceived electoral harassment will not be tolerated here.