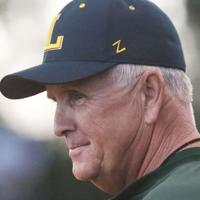 Jimmy White and Don Cribb elected to South Carolina Baseball Coaches Association Hall of Fame | High school
FLORENCECS –Former coaches Jimmy White (Hartsville) and the late Don Cribb (Marion and Latta) were elected to the South Carolina Baseball Coaches Association Hall of Fame on Tuesday.
White, the Red Foxes baseball field namesake, guided the program to state crowns in 1981 and 1986 while winning 519 games. Cribb, who died last year, guided Latta to the state championships in 2015 and 2018 while winning 531.
Current Hartsville coach Tony Gainey was on White's 1981 state championship team.
"I can't think of anyone more deserving, and bringing him in with (Cribb), who was another great guy, is special," Gainey said of White, who also coached Hartsville twice. "Coach White was one of those guys, while he was coaching you, that you probably didn't like very much because he was tough.
"He demanded 100% of you every day," he added. "I like to think that I'm postponing this and trying to do a lot of things like he did. Obviously it worked.
Cribb, who even coached Latta last season while battling cancer, is also fondly remembered. He coached at Marion, then took over the Vikings for the 2012 season. He coached the Swamp Foxes to two state finals, then guided the Vikings to five consecutive state finals, from 2014 to 2018.
Latta's current coach, Robbie Brown, spoke about what Cribb meant to him.
"Coach Cribb instilled courage and tenacity into the program. His expectation is the seed of our program. His commitment is the watering method of this seed," Brown said. "And his love for the game encompassed the many years of success. Coach Cribb will always have a place in Latta Baseball; he will always be in the middle of our program in spirit. Most importantly, its excellence will always be the standard.
Count Latta assistant athletic director, Brandon Iseman, as another who Cribb will miss and is happy for his honor.
"For me personally, any time as a young coach you have the opportunity to work with someone like Coach Cribb, who has so much experience and so many stories, it was obviously a blessing for me," Iseman said. "He certainly shaped my career, that's for sure."