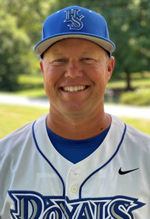 HSE and Carmel welcome new baseball coaches – Hamilton County Reporter
Two Hamilton County high school baseball teams have new head coaches this week.
On Monday, Hamilton Southeastern announced that Kory Seitz had been recommended as the Royals' new coach. Seitz is a "lifetime Royal," said a press release on the HSE Athletics website, graduating from Southeastern in 1996. He was a three-sport athlete for the Royals and played baseball for his father, the Hall of Fame coach Ken Seitz.
Kory Seitz played baseball at Indiana University, then moved back to the Southeast in 2004, having served as an assistant coach for the Royals baseball team ever since. He was a real estate agent in central Indiana for 16 years, currently working at the Keller Williams Indy Metro Northeast office. Seitz is married to his wife Heather and has three children: Kam, Haleigh and Karson.
"We couldn't be happier to welcome Coach Seitz into the role of head coach of the Royals' baseball program," Southeastern athletic director Greg Habegger said. "Kory has literally been a Royal all his life as he grew up watching his father's teams build an incredible tradition at the HSE. He was a standout player himself and a member of the HSE Hall of Fame. He has faithfully served as an assistant coach during the tenure of four head coaches.We look forward to seeing Kory put his own mark on the Royals' baseball program.
On Tuesday, Carmel announced the hiring of Ty Neal as the new Greyhounds baseball head coach. Neal spent 19 years coaching college baseball, serving as an assistant coach in Miami of Ohio (his alma mater), southern Illinois, Cincinnati and Indiana before spending four years as a head coach in Cincinnati. Neal was also the quality coach at Arizona State for a year.