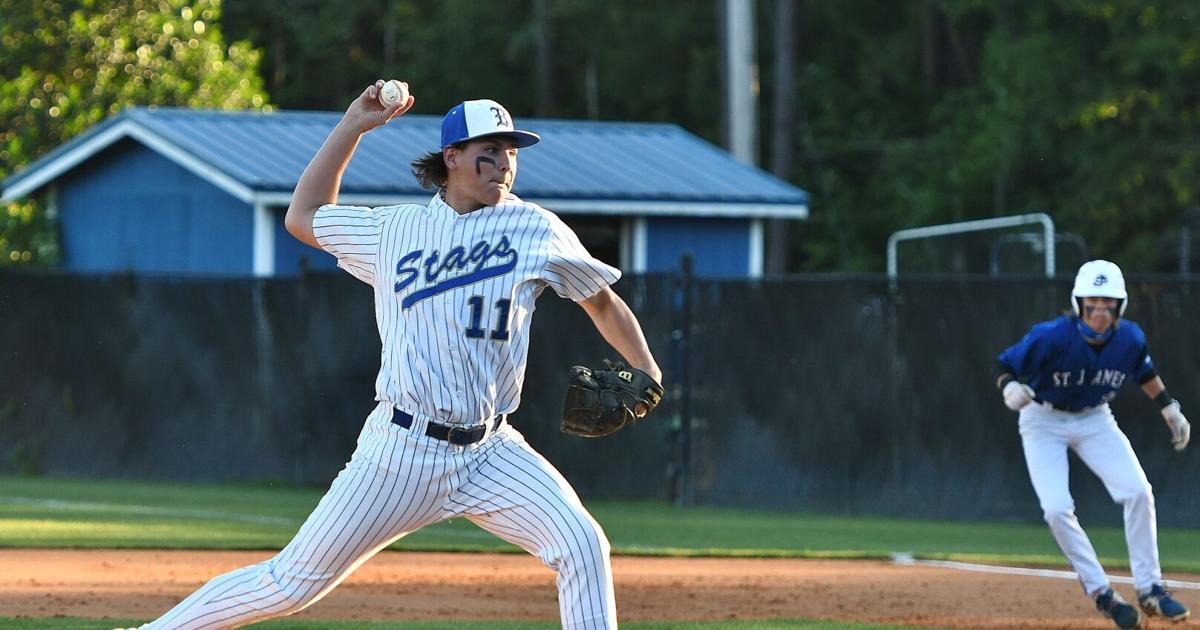 High School Grades: SC Baseball Coaches Association selects teams from all states for 2021 | Sports
Prep spring sports athletes made up for lost time in 2021, managing to complete full seasons just one year after being totally shut down due to the COVID-19 pandemic.
State championships for spring sports have now been decided, except for two, baseball and softball. The Upper and Lower State championship series are underway this week, with the state championships in all five SCHSL rankings to be decided next week.
With the completion of the sports seasons comes the release of various teams from all states and regions, selected to honor the best players of 2021. These lists are made a little more special after the absence of teams from all states or all regions. one year ago.
The SC Baseball Coaches Association has announced its 2021 all-state teams in each ranking, as well as regional and national players of the year. Locally, 14 players have been selected.
Berkeley pitcher Chevy Wrenn was named the 7-AAAAA Region Player of the Year, and West Ashley pitcher Alex Smalls is the 8-AAAAA Region Player of the Year.
Wrenn and Smalls are joined on the AAAAA all-state team by Cole Messina, Aidan Hunter and PJ Morlando of Summerville, and Tyler Christmas of Fort Dorchester.
James Island's Hogan Garner is the only Class AAAA all-state team selection. Daniel Brooks of Bishop England is the 8-AAA Region Player of the Year, with teammate Chase Loggins joining him on the AAA All-State team.
Philip Simmons' Tripp Williams is the Region 6-AA Player of the Year. Philip Simmons' Tristan Skipper and Woodland's Jake Herndon are also Class AA picks for all states.
Palmetto Scholars Academy's Jacob Crabb is the Region 7-A Player of the Year and a member of the All-State Class A Team. Also selected in Class A is Clay Schaffer of Lowcountry Leadership.
Another state track standout
Lost in the mix of all the great performances at the state track and field championships over the weekend was another standout achievement from Brett Jones of St. John's High.
Jones, an eighth grader, won two gold medals in the Class A state meet on Saturday. Jones won gold in javelin and discus. His 126-foot-2 javelin throw was the second-best of five rankings.
Regional honors
Region 8-AAAAA boys tennis
Summerville – Sam Dimuzio (player of the year), William Wimberly, Edward Naval. West Ashley–Cheng Sun. Fort Dorchester – Kevaughn Williams, Daniel Clayborn. Ashley Ridge-Daniel Schmedeke, Ryan Daley. Coach of the Year – Jessie Gladis, Summerville.
Area 8-AAAAA Boys Golf
West Ashley – Ryan Bozard, (player of the year), Luis Thompson, Simon DiMaggio. Summerville – Josh Traylor, AJ Martino. Ashley Ridge – Wade Mizell, Wyatt Mizell. Coach of the Year – Patrick Ging, West Ashley.
Region 7-AAAA Women's Soccer
Beaufort – Quinn Wilson (player of the year). James Island – Maggie Gardner, Kaitlyn Overla, Taylor Hurteau, Lillian Ray, Alexis Spivey, Alarie Hodge. Hilton Head – Julia Willey, Abbie Lainhart, Addie Trew, Claire Sanford. Bluffton- Leyla Dubs, Gwenna Townsend. County of Colleton – Sierra Obenaus. Coach of the Year – Kim Cohn, James Island.
Region 7-AAAA boys lacrosse
May River – Rob Gadomski (player of the year), Brooks Van Esselstyn, Jacob Bollinger, Rett Harrell. Lucy Beckham – Ryan Weis, Jake Leland, Garrett Coombs, Grant Bushey. James Island – Beecher Brown, Camp Hagood. Hilton Head – Kyle Kirkpatrick, Isaiah Shatz, Amare Ford. Coach of the Year – Matt Loda, James Island.
Region 7-AAAAA boys tennis
Wando – Cameron Davies (player of the year), Jack Hughes, Parker Davis. Stratford-Ben Martin, Brady Hurd. Berkeley-Josh Gianelli, David Gianelli. Cane Berry – Jonah Streff, Julian Kimsey. Coach of the Year – Charlie Painter, Wando.
7-AAAAA Area Boys Golf
Stratford – Blake Lee (Player of the Year). Wando – Tyler Taber, Edward Orr, Harry De Grood, Sidak Chawla, Jacob Keener. Berkeley – Murphy Fleet. Coach of the Year – Gerald Lloyd, Wando.
Region 8-AAA Football
Boys: Bishop England – Nick DeFazio, Zander Mullen, Christopher Richardson, Zachary Michael, Benjamin Lordi. Oceanside Collegiate – Michael John Perry, Dominick D'Elia, Ted Van Thullenar. Academic magnet – Jake Myers, Pope Kennedy. Hanahan-Seth Long. North Charleston – Kevin Vidal.
Daughters: Oceanside Collegiate – Jordan Carretta, Julia Cosgrove, Shae Baldwin, Hannah Denton, Korbin Heyward. Academic Magnet – Gracie Mochizuki, Kaylin Morris, Marie Archambault. Bishop England – Kayla Vroman, Lauren Berrigan. Hanahan – Alani Hall. Battery Creek – Natalie Cruz-Woodley.