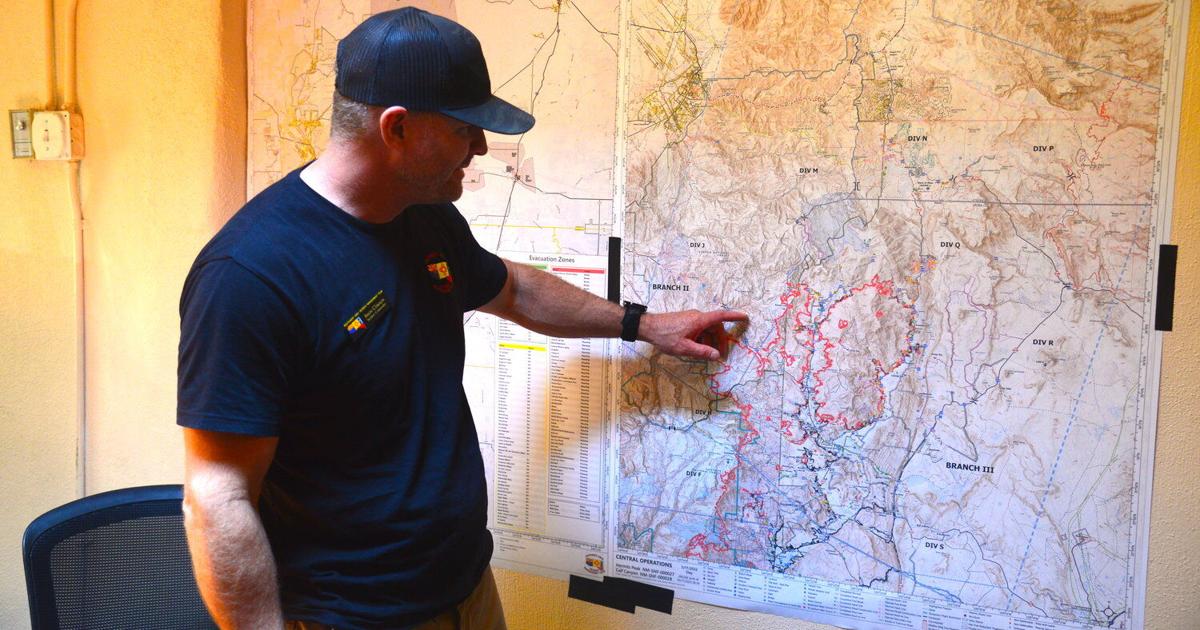 Calf Canyon-Hermits Peak Fire Command Team Discuss Tactics | public safety
Running command of the Calf Canyon – Hermits Peak Fire (which, at press time, covers more than 300,000 acres) is no easy task, firefighters say, and managing the roughly 2,000 people who have been brought in from all over the world is not either. country to help fight what for weeks was the largest wildfire in the United States and on Monday became the largest in New Mexico history.
After the Federal Emergency Management Agency (FEMA) officially took control of the fire on May 14, command teams and public information officers changed. Now the US Forest Service oversees the entire operation and has officially set up a command center in Taos inside several buildings along Civic Plaza Drive. Another Incident Command Center is located in Las Vegas, NM
Renette Saba, Public Information Officer for the Calf Canyon – Hermits Peak Fire Incident Management Team, explained that she recently moved to Taos in order to have a more permanent headquarters. "A lot of times we're so far away from the actual fire because we don't want to have to pick up and move camp or something if, indeed, we're closer to the fire," she said.
She described the headquarters as "a small town", with everyone in a designated role. There are currently three Type 1 Incident Command Teams assigned to the fire – Southwest Team One, Southwest Team Three and California Team Two. "We are probably around 100 per team, not counting the firefighters on the ground," explains Saba.
Team 1 Southwest Incident Commander Jason Clawson explained the militaristic nature of command operations and why it is important to have clear communication and command during stressful events. Each command team has a liaison officer who works with local governments, a human resources specialist, security officers and a "logistics" team – who manage food, water, fuel, camping specifics, communications, medical needs and finances.
When it comes to boots in the field, Clawson said there is also a worker hierarchy. "We are putting out a fire in divisions," he said. "With a large landscape, the only way to organize these resources is to divide them into certain zones across the fire. Each fire zone will have a different mix of resources – overhead and leadership – depending on the needs of this geographical area.
"Engines and crews can have a workgroup leader overseeing three crews and a few engines," he said. "Then you have the Division Supervisor, who works for the Branch Manager, and the Branch Manager works for the Field Operations Unit." Field operations unit directors then report directly to incident commanders, like Clawson.
Clawson said ground crews are further broken down to meet different fire needs. Resources are allocated based on what is immediately at risk. "We have a mix of 'values ​​at risk': houses, structures, private properties, outbuildings, rangelands, pastures, [etc.]," he said.
Typically, they have teams of three to five people running 300 to 500 gallon fire trucks. "We have a mix of different types of engines in this division working mostly on structure triage, determining which structures need more work and which can be saved," Clawson explained.
There are also manual crews within each division, working in tandem with engine crews to help protect structures and create lines of fire, which is a gap that firefighters dig into vegetation to slow or stop forest fires. They also do much of the delimbing (or cutting off the dead, easily burnable parts of trees). "The engine modules do that as well, but they would mostly focus on water application," Clawson said.
Each ground team is also in contact with the aeronautical resources available. "Right now we have six 'scoopers' — or fixed-wing aircraft. Then we have the large rotary-wing helicopter that can drop up to 2,000 gallons of water at a time," Clawson said. Crews will talk to aircraft personnel by radio to coordinate where they need the water to be dropped.
Heavy equipment operators are also an integral part of the operation. Clawson said they have a wide variety of different bulldozers and large tree chippers that can help build 'rescue lines' or built-in emergency firebreaks in case the fire spreads across a new territory. "They go in and identify a large ridge that could be used for a fuel rupture and are ready to install a flex hose, or it needs to be burned at some point."
He explained that fighting fire with fire is a necessary part of what they do. He said it takes a lot of science and research. "There are a lot of factors that come into play to be able to do a burnout operation that you can pull off." This involves coordination with the incident meteorologist, fire behavior analysts and ground crews. "Knowing the fuel conditions, the wind direction – it all plays into how much fire you can put on the ground," he said.
Stepping back, Clawson explained that the three incident management teams are made up of the previously mentioned teams: fire trucks, ground teams and heavy equipment teams, all of which are then supported by aircraft.
On Tuesday, May 17, Clawson said there were about 1,900 people on the ground physically fighting the fire, with the remaining crews in remote leadership positions. Currently, about half the crew is on the north side of the fire, fighting the ongoing blaze, while the other half maintains the south side, near Las Vegas.
Before taking command of the fire, Clawson said crews spent three days tracking former crews. "It gives us time to have a really good understanding of the operation that's going on on the ground," he said. "We have a very transparent and smooth transfer of command at all levels, from bottom to top."
While some may wonder why local fire departments aren't there with national teams, Clawson explained that they always reach out if needed and will sometimes contract with local construction companies to hire bulldozers.
"We are here to support the local units because this has gone out of their control," Saba added. "We are here to make sure they don't neglect their normal duties."
Local firefighters are also on high alert as dry, windy weather has persisted this spring, such as on May 10, when Taos County crews quickly extinguished three bushfires that were started by sparks from a catalytic converter at Taos Canyon.
Looking ahead, Clawson said he feels good about the teams in place, but admitted it will likely be an ongoing battle until the region receives much-needed rain.
"I think it will continue until the monsoons are here," he said of the blaze, admitting it was extremely early in the season to fight a blaze of this magnitude. He said his team usually gets a call to attend a Type 1 fire around "mid-May, but this year it was mid-April. This is the first I have been set on fire in the southwest.