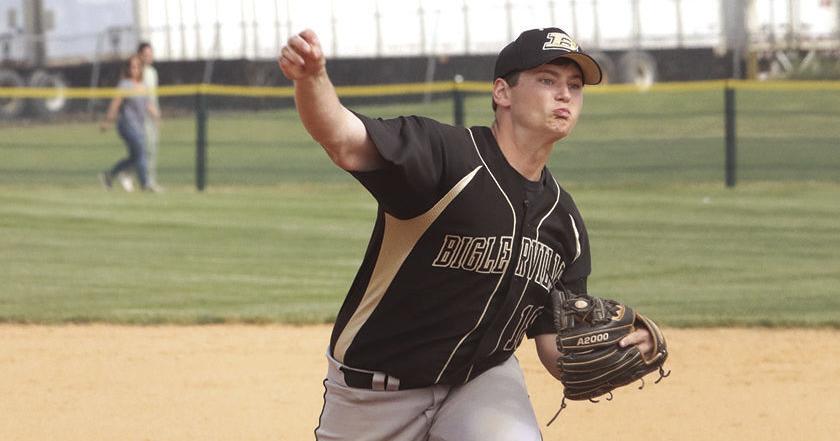 Biglerville's Orner and Brewer headline YAIAA baseball coaching all-star teams | Sports
Biglerville seniors Connor Orner and Logan Brewer headlined a collection of Times Area players named to YAIAA Baseball Coaching All-Star Teams.
Orner was named Division 4 Player of the Year after batting .411 with 23 hits, 20 RBIs and 24 runs scored in 20 games. Orner had four doubles and four home runs, posting a .696 slugging percentage and .570 on-base percentage. In addition to his base hits, the Salem University tackle drew a dozen walks and was hit by the pitch 10 times.
Brewer, an infielder by trade, put himself ahead of Canner's staff and won pitcher of the year honors. The right-hander went 4-2 with 41 strikeouts and a 2.97 ERA in 33 innings pitched, helping Biglerville earn a third straight division title and a District 3 3A playoff bid.
Brewer will continue his career next season at Lebanon Valley College.
Southwestern junior Josh Berzonski earned Division 1 pitcher of the year honors. Berzonski was a workaholic, logging 60 innings as he compiled a 7-1 record. The southpaw racked up 89 strikeouts against 15 walks, posting a tiny 0.583 ERA.
Berzonski launched the Mustangs into the District 3 5A playoffs, where they upset No. 5 Waynesboro on the back of his two hitters.
Berzonski's drum mate, junior Ty Cromer, was selected as the Division 1 top receiver.
Gettysburg landed three players on the Division 2 team, including seniors Marshall Mott (pitcher) and Alex Meckley (infield), and second Bryce Rudisill (utility/DH). This trio helped Gettysburg make the D3-5A playoffs.
The Warriors were joined by New Oxford standouts Jesse Bitzer (pitcher) and Mason Weaver (infielder) as stars.
In Division 3, a trio of Bermudian Springs players picked up All-Star honors. Seniors Dalton Reinert and Brock Carpenter were among the infielders chosen while Carter Stuart was given the go-ahead in the utility/DH position.
Littlestown, another area playoff team, saw senior ace Andrew Olvera land one of the pitching spots. The Bolts' staff will be in good hands for years to come with first-year wide receiver Ryan Jones behind the plate.
Brewer and Orner had company on the Y-4 team with junior outfielder Ben Angstadt.
Delone Catholic (11-9), who reached the Class 2A semifinals, was well represented with four players on the squad. Junior pitcher Jake Sherdel and senior receiver Wyatt Schussler were honored for their respective seasons, as were juniors Avery Kuntz (infielder) and Tyler Hillson (outfielder).
The Squires' Dave Neumayer was named co-coach of the year with Fritz Allison, who led Hannover to the playoffs with a late push. Allison saw three of her sophomores pass the milestone, including Chase Roberts (pitcher), Justus Feeser (outfielder) and Mason Smith (utility/DH).
Fairfield junior stars Jake Myers and Cody Valentine earned two of four on-court spots on the all-star roster.
Player of the Year: Colin Ahr (Jr.) Dallastown
Launcher of the year: Josh Berzonski (Jr.) Southwest
Coach of the Year: Greg KennemanDallastown
Pitchers: Grant Smeltzer (Sr.) Central York; Nate Toomey (Jr.) Northeast
Seeker: Ty Cromer (Jr.) Southwest
Infielders: Andy Sreboski (Sr.) Northeast; Connor Barto (So.) Dallastown; Riley Thomas (Sr.) Dallastown; Evan Beach (Sr.) Dallastown
Voltigeurs: Andrew Jones (Sr.) Dallastown; Owen Willhide (So.) Northeast; Jacob Earnest (Sr.) Red Lion
Utility/DH: Jake Holt (Sr.) Dallastown
Honorable mention: Alex Barger (Central York), Chandler Powell (Dallastown), Kyle Daugherty (Red Lion), Jason Krieger (Red Lion), Brandon Ritchey (Red Lion), Ryan Stabley (Red Lion), Austin Long (South Western)
Player of the Year: Spencer Butz, suburb of York
Co-Launchers of the Year: Ian Korn, York Suburb and Beau Boyers, Spring Grove
Coach of the Year: Kevin StifflerSpring Grove
Pitchers: Jesse Bitzer, New Oxford; Marshall Mott (Sr.) Gettysburg
Seeker: Owen Kennell, Dover
Infielders: Aaron Eckard (Sr.) Dover; Mason Weaver (Jr.) New Oxford; Alex Meckley (Sr.) Gettysburg; Landon Bailey (Fr.) Spring Grove
Voltigeurs: Jordy Rios (Sr.) West York; Owen Sporer (Jr.) Spring Grove; Eli Tome (Jr.) Spring Grove
Utility/DH: Luke Bailey (Sr.) Spring Grove; Bryce Rudisill (So.) Gettysburg
Honorable Mention: Tegan Kuhns (Gettysburg), Jeff Minot (West York), Jett Smith (Spring Grove), Brenden Peterson (York Suburban), Nick Richardson (York Suburban)
Player of the Year: Luke Geiple (So.) Susquehannock
Launcher of the year: Evan Rishell (Sr.) East of York
Coach of the Year: Brett Heiser, York East
Pitchers: Jason Williams (Sr.) Kennard-Dale; Andrew Olvera (Sr.) Littlestown; Joe Smith (So.) Susquehannock; Owen Shimmel (Sr.) East of York
Seeker: Ryan Jones (Fr.) Littlestown
Infielders: Koy Swanson (So.) Kennard-Dale; Dalton Reinert (Sr.) Bermuda Springs; Brock Carpenter (Sr.) Bermudian Springs; Ben Laubach (Sr.) Susquehannock; Austin Bausman (So.) East of York
Voltigeurs: Jason Williams (Sr.) Kennard-Dale; Brody Hinkle (Jr.) East of York; Tyler Nagel (Sr.) Kennard-Dale
Utility/DH: Carter Stuart (Jr.) Bermuda Sources
Honorable Mention: Blake Young (Bermudian Springs), Drew Dellinger (Eastern York), Nate Dandridge (Eastern York), Quinton McNew (Eastern York), Justin Ranker (Eastern York), Colby Hahn (Littlestown), Lucas Nagel (Kennard-Dale), Dave Barrett (Susquehannock), Brayden Heaps (Susquehannock), Ben Koller (Susquehannock), AJ Miller (Susquehannock)
Player of the Year: Connor Orner (Sr.) Biglerville
Launcher of the year: Logan Brewer (Sr.) Biglerville
Co-Coaches of the Year: Dave Neumayer, Catholic Delone and Fritz Allison, Hanover
Pitchers: Chase Roberts (So.) Hanover; Jake Sherdel (Jr.) Delone Catholic)
Seeker: Wyatt Schussler (Sr.) Delone Catholic
Infielders: Jake Myers (Jr.) Fairfield; Anthony Catterall (Sr.) York Catholic; Cody Valentine (Jr.) Fairfield; Avery Kuntz (Jr.) Delone Catholic)
Voltigeurs: Ben Angstadt (Jr.) Biglerville; Justus Feeser (So.) Hanover; Tyler Hillson (Jr.) Delone Catholic
Utility/DH: Mason Smith (So.) Hanover
Honorable Mention: Cameron Hartzell (Biglerville), Eli Weigle (Biglerville), Eric Ball (Fairfield), Brady Walker (York Catholic), Kaiden Rogers (York Tech)